Everyone wants to feel their best daily, although it's no secret recovery is one of the last things we prioritise when life gets busy. Proper recovery is essential to optimise our health and performance. We can give our bodies the best chance to perform better, recovery fast, and live healthier with great nutrition.
Our Ultimate Post-Workout Smoothie is a complete solution designed to support all aspects of recovery so you can adapt and be fit for your next session. However, if you are looking for a solution that you can create on your own, below is a smoothie recipe that includes key recovery ingredients that can easily be found at your supermarket.
Berry & Banana Recovery Smoothie Recipe:
Ingredients
1/2 Banana
1/3 Cup of Strawberry
1/3 Cup of Mixed Berries
5 Whole Almonds
1 Heaped tbsp of Protein
1 Tsp of Collagen
1 Tbsp of Greek Yoghurt
200ml Water
Method
Place all ingredients in a blender and mix until smooth.
Pour into a glass or shaker and enjoy.
Radix Nutrition Ultimate Post-Workout Smoothie - Berry & Banana
Alternatively, if you are short on time, the Radix Nutrition Ultimate Post-Workout Smoothie Range can provide you with a nutritionally complete solution that's ultra-convenient. We have made optimising your recovery as simple as possible by allowing you to avoid time-consuming tasks such as sourcing ingredients, preparing, and cleaning up!
We have combined nature's most concentrated whole-food ingredients and superfoods to provide a high-protein and fast-acting carbohydrate formulation that contains the micronutrients and phytonutrients your body needs to recover faster and perform better.
It is specifically designed to support your entire recovery system by considering repairing your muscles, cells, energy stores and balance of immunity and hormones.
The addition of essential amino acids and micronutrients helps to alleviate it one step further, ensuring that you are getting all that you need to reach your training and wellbeing goals. It is easy to prepare and can be consumed anywhere and at any time.
Ingredients
Whey Protein Isolate
Collagen Peptides
Banana
Almonds
Blackcurrant
Strawberry
Monk Fruit Extract
Organic Baobab
Organic Acerola
Method
Mix one smoothie sachet into a shaker with 300 ml of cold water and shake well. For best results, consume one smoothie as soon after exercise as possible.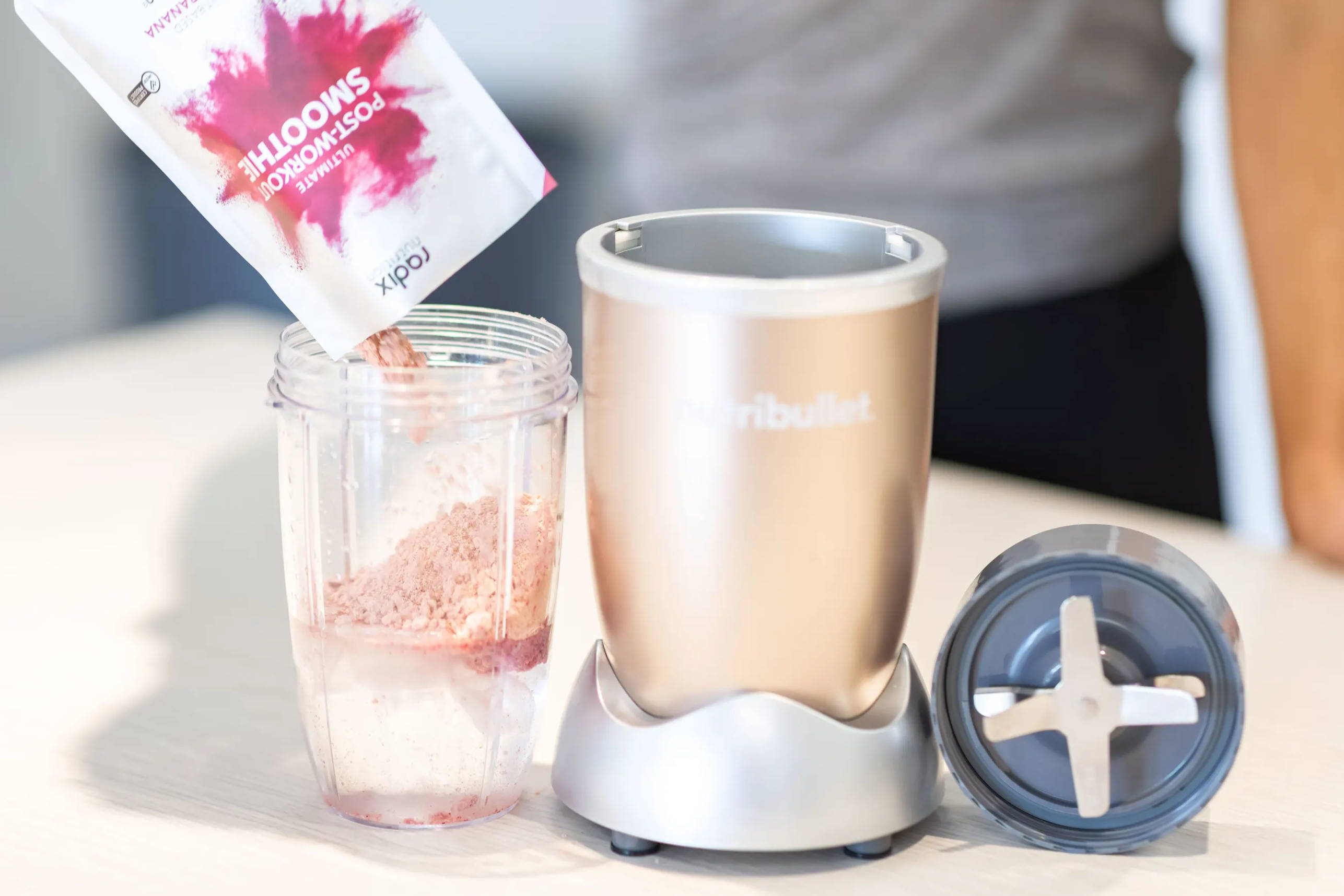 Looking to See How the Two Post-Workout Smoothies Compare?
Compared below are the nutritional profiles of the Radix Post-Workout Smoothie and the Home Made Recovery Smoothie.
The Radix Nutrition Post-Workout Smoothie has been scientifically formulated to provide the key micronutrients that your body needs to recover. Purposefully developed with your needs in mind, it provides the optimal servings of Folate, Vitamin C, magnesium, potassium and iron in more generous quantities than those typically found in a smoothie made at home.
The Ultimate Post-Workout Smoothie vs Homemade Recovery smoothie includes approximately:
15x more folate per serve
10x more Vitamin C per serve
2x more Magnesium per serve
Double the amount of potassium per serve
6x the amount of iron per serving
Nutritional Profile Comparison: Radix Ultimate Post-Workout Smoothie vs. Homemade Berry & Banana Recovery Smoothie
| | | |
| --- | --- | --- |
|   | Radix Ultimate Post-Workout Recovery Smoothie (Berry & Banana) - Per Serve | Homemade Recovery Smoothie - Per Serve (186g) |
| Energy (Kcal) | 1080kj (258kcal) | 1270 kj (304kcal) |
| Protein | 30g | 38.7g |
| Carbohydrates | 18.60g | 20.8g |
| Fat | 5.60g | 6.7g |
| B6 | 0.16mg | 0.19mg |
| Folate | 60.36ug | 3.91ug |
| Vitamin C | 116.32mg | 12.09mg |
| Magnesium | 55.64mg | 22.13mg |
| Potassium | 437.56mg | 264.12mg |
| Iron | 1.07mg | 0.1674mg |
Shop New Recovery Smoothies
A complete recovery solution designed to support your entire recovery.